The Dyatlov Pass journey
THE UNIQUE CHANCE TO TOUCH THE LEGEND OF THE DYATLOV PASS !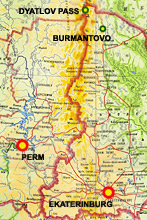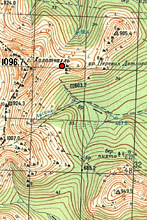 The region: Russia, Ural Mountains, Northern Urals
Duration: four days

The amount of participants: 2 – 6 peoples

The route of expedition:
1) the city of Ekaterinburg – town Ivdel – Burmantovo settlement – town Ivdel - the city of Ekaterinburg (two nights by the train + by car 2x90 km)
2) Burmantovo settlement – Vizhaj village – Ushma village – Dyatlov Pass – Mt.Otorten (1096.7 m) – Dyatlov Pass – Ushma village – Vizhaj village - Burmantovo settlement (by snowmobiles - 290 km)

Please contact us to get the current prices of the tour via email office@welcome-ural.ru
The price includes: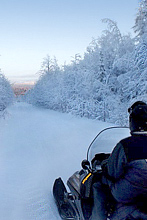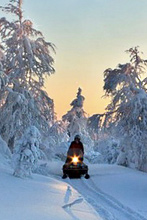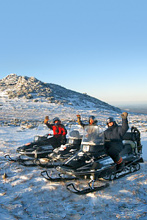 • Rent of snowmobiles YAMAHA Viking 540 with trailers (fuel included)
• Service of the guide-instructor
• Full board
• Rent GPS navigators and satellite phone
• Spending the night in the settlement of the people Mansi
• Rent of winter outdoor equipment (tent with oven, sleeping bags, mats, multi-fuel torch, petrol generator)
• Medical insurance with the provided helicopter evacuation in case
of emergency situation

The price does not include:
• Transfer Ekaterinburg - Ivdel - Ekaterinburg
• Transfer Ivdel - Burmantovo - Ivdel
IMPORTANT !
Before you decided to join a group and make this ride or not we strongly recommend you to learn the story of Dyatlov Pass -
you can found some facts and theories below: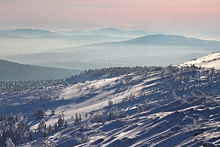 The Dyatlov Pass incident in Wikipedia
The Dyatlov Pass incident in Forteantimes
THE DYATLOV PASS ACCIDENT and THE THEORIES

AND IT'S NOT AN ALL ! - some film directors are going to shoot movies based on those misterious events:

Renny Harlin (Die Hard2, Cliffhanger) With the fact-based film about a mysterious incident in 1959, when 9 experienced hikers were found dead. The film is about contemporary students on a trek to investigate the mystery - five ambitious American students given a grant to investigate the incident and retrace the victims' journey. This proves to be a mistake, since they're soon bothered by strange and terrifying phenomena, suggesting that the forces behind the original mystery have been waiting fifty-odd years for a repeat performance...

Simon Fellows (Malice in Wonderland, Until Death) will direct an adaptation of Alan K. Barker's book Dyatlov Pass, based on true life events which saw nine students die in unexplained circumstances while ski-hiking in the Ural mountains in 1959. The sсript is being penned by Andy Briggs (Vampire Junkies) who has a background in horror, paranormal and adaptations, though this will be his first script and bankrolled by Future Film Group's production arm and co-produced by U.K. banner 28 Pictures. The Dyatlov Pass - Official Teaser Trailer
8 days in the Northern Urals! From Perm by helicopter !
Uncover the mystery of the Dyatlov Pass, mountain Otorten and other mysterious legends of the Northern Urals! - Take a dip in the mountain lake, play with snowballs during hot summer, catch grayling in the mountain rivers, meet the curious bears and not frightened deers, enjoy the mountain air, beautiful views and quietness.