Ural motorcycle tours in Russia
OPTIMIZED PRICES - New Special Rates for 2019 !
find details in the schedule section
Exciting adventure on Ural sidecar motorcycles in the Ural Mountains !
Have you ever dreamt of what it would be like to pilot a Ural through exotic, far-away land? Or perhaps to even visit the birthplace of your favourite sidecar motorcycle? Well, now it's all possible with these fly & ride adventure tours offered by Ural Expeditions & Tours !
These riding tours are truly international journeys with fellow riders from all over the world! A once in a lifetime opportunity to experience the Ural adventure unlike any other awaits you when you join in one of the Ural sidecar motorcycles tours.
Urals is an unique region for amateurs of motorcycle riding. The Great Uralian Circle it's for you! During your tour you will cross several natural-landscape zones: forest, mountain, steppe, and forest-steppe. You will see the beauty of the old Ural Mountains, taiga, rapid mountain and slow taiga rivers.
Touch lightly upon the deep, fascinating history of the Ural region, which always was a strong part of the Russian Empire and an immense source of raw materials. The Urals became the springboard for opening up the new lands of Siberia and the Far East.

Start your RIDE RIGHT NOW and DISCOVER the URALS !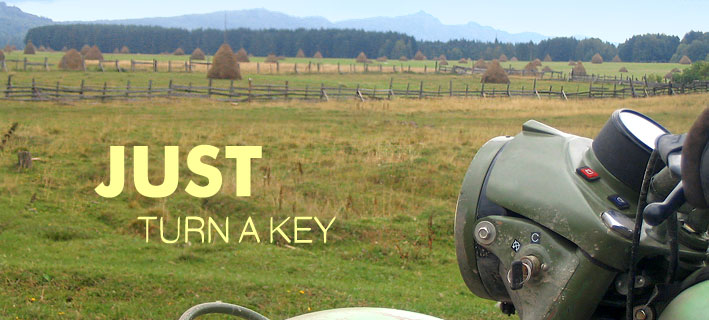 Visit architectural monuments of several centuries, ancient churches and temples, aging factories and giant modern industrial plants, old villages and modern cities. The Urals have stopped being simply a white path on the map of the World and are now opened for foreign visitors. The capital of the Urals is the city of Ekaterinburg - the third largest Russian city and an ideal starting point for travel across the Urals.

Motorcycles types: Ural sidecar motorcycles of Irbit Motorcycle Plant (Ural-T 2012, Tourist 2014 and old models). Ural is the only Russian manufacturer of heavy capacity motorcycles, and one of few manufacturers of sidecar motorcycles in the world. Ural motorcycles have retained their solid military roots and have evolved to include many modern technical improvements: front disc brakes, electric start, electronic ignition, and efficient alternators, to name a few.
However, the real difference between the Ural and any other motorcycle goes deeper. Outstanding cargo capacity, rugged drive train, and unmatched versatility mean Ural motorcycles cannot be beat. They are practical, reliable, and tough as nails. They have everything you need to take you anywhere you want to go !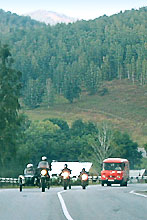 About Tours and Services:
We provide full service and guided Ural sidecar motorcycles tours.
We serve both small and large groups of tourists (2 - 10 persons).
All tourists are provided with tourist road maps. Area of tours - Southern, Middle and Northern Urals.
Duration: (3-5 ***) 7 - 11 days. Total distance: 500 - 2000 km. Daily rides between 90 and 200 km.
Interpreter, guide and mechanic accompany the group on the support van or on Ural sidecar motorcycle.
Accommodation: typical regional middle class hotels and tent camps, full board every day (local cuisine).
Each tour includes: sightseeing excursions with guides, speaking your language, visiting the "birthplace"
of Ural sidecar motorcycles - Irbit Motorcycle Plant and the motorcycle's museum in the town Irbit.
Optional: Travel Insurance.

Tour categories: · Easy riding · Adventure · Scouting

The year of 2019 - The old and new routes and new sights, new meetings and new impressions, new feelings and new friends! Have you ever asked yourself - why you didn't ride on the Ural motorcycle in the Ural Mountains yet and why you didn't visit the birthplace of Russian motorcycles but just sometimes dreamed to do that ? Nowadays your dreams can become reality ! - We invite you to take part in one of our Ural sidecar motorcycles tours: from easy-ridings for beginners - to adventurous journeys for experienced energetic riders with accommodation in simple tent camps, local tourist centers and 2*-5* city hotels.
NEW OPTION - EKATERINBURG CITY SIGHTSEEING
ON URAL SIDECAR MOTORCYCLES ! (one - four hours)
Choose your Ural sidecar motorcycle journey of 2019:
GOOD NEWS !

We also have updated the motorcycles section in our Photo-Gallery. Now you can see the photos of our last journeys. Each photo with short description! To open the motorcycles's Photo-Gallery please click here and here
NOW the Video-Gallery is available on this web-site! In order to see the Ural sidecar motorcycles and other Irbit Plant produced motorcycles in action please visit the Motorcycles's Video-Gallery.
TO ENJOY the Ural Mountains sights, please visit the main Video-Gallery

Subscribe to our page in Facebook and follow us in Instagram or find some more ideas on our TripAdvisor page
---
THE GREATEST URAL BIKERS EVENTS !!!


































Special offer 1 (visit of Ekaterinburg's motorcycles show) will be available later
Special offer 2 (visit of Irbit's motorcycles fest) (25.07 - 02.08.2019)
---
Used photos from Ekaterinburg's bike club and Ural Expeditions & Tours
To learn out how to ride the Classic Ural Motorcycle (the manual kindly provided by IMZ-URAL)