Fish of the Southern Altai
TAIMEN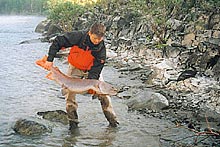 Taimen (hucho taimen pallas) is found in the right tributaries of the Irtysh River, including Uba, Bukhtarma, Kurchum, Kalzhir, Kara-Kaba and Ak-Kaba rivers. During the winter it leaves for the main watercourse and reservoirs.
In spring when the ice melts, it is time for the taimen to spawn and it heads for mountain rivers in search of localities with large pebbly bottoms and without any silt drifts. After spawning, the taimen stay in the mountain rivers for almost the whole summer.
As a rule their weight ranges from three or four to fifteen kilograms. There are reports of taimen weighing eighty kilos. The optimal period for taking taimen is from September to early October.
As a large predator, typically inhabiting rather shallow mountain rivers, taimen school only to spawn. In other periods it keeps individually. In East Kazakhstan reservoirs, owing to its small numbers, taimen have never been a marketable fish.
Taimen is a perfect object of sports fishing – however, being listed in the Red Data Book, if caught it must be released.

USKUCH (MARKAKOL LENOK)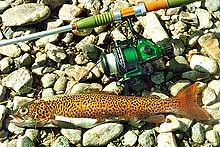 Markakol lenok (Brachymystax lenok savinovi Mitrofanov) abound in Lake Markakol and rivers flowing into it as well as the only river flowing from it – the Kalzhir. In addition it is found in the neighbouring rivers- left tributaries of the Irtysh River: Kara-Kaba, Ak-Kaba, Kurchum and others.
The Markakol lenok differs from ordinary Siberian lenok with its large size and weight but with only a small difference in the form of its body.
Formerly one could catch a lenok weighing up to eight kilograms but presently not more than five kilograms. Ordinary length is 45-55 cm. Spawning period begins in the last ten days of May and ends in mid June for the majority and in July for some other lenoks. The most intensive fishing starts after the first autumn frosts, that is mid September to early October.
Since Lake Markakol and the major rivers flowing into it are found in the Markakol sanctuary, the main place where the taking of lenok is legal, is the Kalgir River- from its mouth to the middle of the stream, along with the eastern part of the lake. The zone for amateur fishing has an area of 1,550 hectares. A lucky fisher can take 200 and more lenoks a day.