FISHING


We are happy to present the most exciting fishing trips through East Kazakhstan. Apart from very successful fishing you'll enjoy the fabled beauty of the Altai and meet a lot of very interesting personalities.
During the trip you'll go by car, on horseback, or by motor ship or rubber dinghy. The latter is for those who want to catch a big pike in deep places and channels overgrown with reed in the Cherny Irtysh River and Zaisan Lake, or take taimen, uskuch or grayling in the Kara-Kaba and Kalzhir mountain rivers. All these places are known as savage and exotic…
We are ready to develop any combination of fishing trip to your liking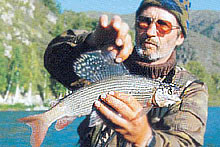 All the routes are in the largest reservoirs in East Kazakhstan, such as Lake Zaisan, Lake Markakol and the Cherny Irtysh River. Lake Zaisan is the largest fresh water reservoir and it abounds in fish. The lake is around 38 km long and 8 m deep and is at a height of over 1800 m. The country around the lake is deserted and severe. There are reserve fishing grounds, where big ten kilo pike can still be found. Also they are abundant in pike-perch and perch. On lucky days every other cast brings a fish.
Another place you'll fish in is the alpine Lake Markakol, the most beautiful in East Kazakhstan. The country around it is not inferior to the lake. The Lake Markakol area is also noted for its taiga forests, pure mountain rivers and fair springs. The local flora and fauna is rich and varied.
One of numerous remarkable things about the lake is that it harbors the endemic
uskuch
- a variety of Siberian lenok (Brachymysta lenok savinovi Mitrofanov) which can be found only in Lake Markakol. All the fish in the lake, after its isolaton in the interglacial period, became endemic. Lake
grayling
(thaymallus arcticus brevicephalus) also differ much from those found in rivers.
Forty kilometers from the lake there are splendid rivers with awe-inspiring names - the Kara-Kaba, Kurchum and Kalzhir Rivers, which run through steep woody mountains and black crags. A fisher can catch river graylings and if he is lucky enough, he can catch the large predator -
taimen
(Hucho taimen). Taimen is an excellent target for sports fishing, for one needs skill, knack and patience to catch it.
RIVERS AND LAKES OF BELOVODIYE


This tour is designed for enthusiasts of fishing in lakes and mountain rivers with a spinning rod or a rod
Physical Fitness:
without restrictions
Tour Duration:
13 days
Group:
4-6 people
Season:
September-early October
Recommended Equipment:
Clothing for both hot and cool weather (temperature may range from –10 to +35C), water-proof clothing for rainy weather, high gum boots and trekking boots, sun-blinkers and UV-protection cream, repellents, a rucksack, fishing tackle fit for fishing in lakes and mountain rivers and a sleeping bag.

NOTE:
Choose this tour to see the most beautiful places in southern Altai (Kazakhstan Altai), including the Bukhtarma River, whose banks where populated from the extreme antiquity. Once the northern branch of the Great Silk Road passed along the river bank. You are going to fish in the very picturesque Lake Bukhtarminskoye - also known for the purity of its water.
You will try your luck at fishing for grayling, lenok (uskuch) and taimen in Lake Markakol, one of the most beautiful sights in the whole of the Altai.
Tour Programe:

Day 1:
Arrive in Ust-Kamenogorsk and put up at a hotel. Sightseeing and visits to ethnographic and local lore museums. At will we can set out to Katon-Karagai and then farther to a bee-garden, the starting point of our trip (350km, 10hrs en route). We get settled either into a country house, yurt or tents.
After supper we examine the area. In the evening we can have our first fishing trip near the bee-garden and we have a good chance to bathe in a Russian steam bath-house.
Day 2-3:
We fish for grayling and taimen in different parts of the Bukhtarma River.
Day 4:
Today we move to alpine Lake Bukhtarminskoye. We settle in a wooden house or our tents. After supper we make a fishing trip.
Day 5-6:
Grayling fishing in different parts of the lake.
Day 7:
Today we drive to the mountain Kara-Kaba river (102km). We get settled either in yurts or tents on the bank. Evening fishing.
Day 8-9:
We fish for grayling, uskuch and taimen. Taimen fishing requires skills and patience on the part of the fisher.
Day 10:
Three-hour drive and we are at Lake Markakol (62km) and we put up at our tourbase. After dinner we familiarize ourselves with the lake and the adjoining territory. We pay a visit to the museum of Markakol sanctuary. In the evening we can fish around the settlement. After fishing we can have a steam bath.
Day 11:
We are busy with fishing for uskuch (lenok) and grayling in different parts of the lake.
In the evening we have "uskuch" soup for supper. We also can bathe in a Russian bath-house and try a traditional massage with birch twigs.
Day 12:
Today we drive back to Ust-Kamenogorsk (480km). After a rest at a hotel we have a farewell supper in a cosy cafe.
Day 13:
Departure from Ust-Kamenogorsk.
NOTE:
At request, the tour program can be slightly changed.
If we spend less time on fishing in some places, we can try fishing in the Kalzhir and Kurchum rivers. Accommodation at camps. Transference along hard mountain roads.
SERVICE: