Salekhard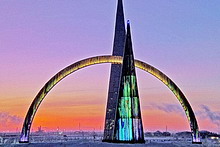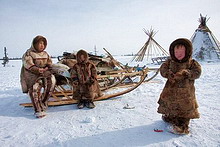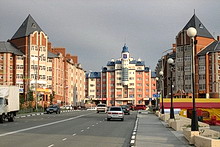 Salekhard is located both in the Nether-Polar and Polar Urals. Despite all the difficulties of living in the far north, the location of the city is what makes Salekhard so special. The Arctic Circle cuts the city in half, so you can sleep with your head in the Arctic and your heels in the continent.

At the beginning of the first millenium "Nenets" (the indiginous population) lived in big deep dug-outs and were engaged in reindeer breeding, hunting and fishing. In the 11th century manufacturers and merchants from Novgorod penetrated this territory and by the end of the 16th century the district was attached to Russia.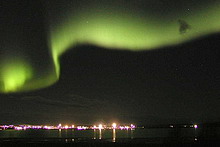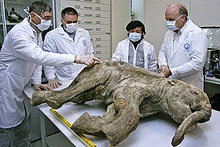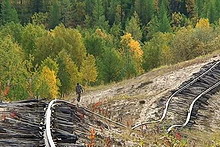 Salekhard was based in 1595 as a Cossack fortress (at that time the most northern fortress in Siberia) under the name of Obdorsk. At the end of 18th century the fortress was abolished and from the 19th century permanent Russian residents began to settle there. From the middle of the 18th to the beginning of the 20th century the famous annual winter fair was held in Obdorsk. From 1930 Obdorsk was the centre of Yamal-Nenets national district. In 1933 the city was named "Salekhard" (Nenets name for a settlement on a cape).

In the early 1950s, Salekhard was one of the main base stations for the construction of the Salekhard–Igarka Railway (the Transpolar Mainline), designed to connect Murmansk and Arckangelsk to Chukotka in an attempt to effectively exploit the riches of the Far North. Construction of the Chum-Salekhard-Igarka Railway, a section of the Transpolar Mainline, began under Joseph Stalin, but the railway was never finished. The Chum-Salekhard and Salekhard-Igarka, codenamed 501 Railroad and 503 Railroad and dubbed "The Joyful 500" by locals, acquired one more name in the late 1950s – the "Dead Road." This is the name that's most popular now.

If you visit the city Salekhard, we are glad to offer you some excursions in Salekhard and its environs. All of these programmes start in Salekhard. For some impressions from our guests who have visited the Urals, please click here


Flag of Yamal-Nenets national district
Flag of city Salekhard
Some photos of city Salekhard

The main industries of the region are gas and fish. Construction materials are produced and there are also flourishing agricultural and animal husbandry industries.
The district is one of Russia's main reindeer breeding regions. On "fur" farms, silver-black foxes, blue polar foxes and coloured minks are raised. Such animals as the polar fox, sable and stoat have significant trading values.
The main means of transport in the region are the navigable rivers, Ob, Nadym, Taz, and Pur. The northern sea way also is important as sea-going ships come into the gulf of the river Ob. A unique railway connects Vorkuta to Salekhard which also has an airport.